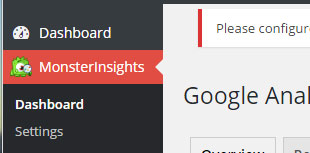 One of my go-to plugins, Google Analytics by Yoast, was purchased by Syed Balkhi, the founder of tutorial site WPBeginner. Today they rolled out their first new update, but the impression made was probably not what they were expecting.
Sounds like some users were afraid they'd been hacked when they saw the new big green monster logo high up in the WordPress menu… it really doesn't provide the most reassuring appearance at first glance. The word 'monster' and lack of any wording related to analytics doesn't help either. It also looks like everyone using it will have to reauthenticate with Google Analytics, too.
Not sure yet whether I'll stick with the plugin. I highly respect Syed Balkhi and have learned a lot from his posts and tutorials, so maybe this is a good thing for the plugin's future. But it's not exactly the rollout I would have recommended.
Followup: the new owners of the plugin worked quickly to address user concerns, thanks guys! The changes include:
Moving the plugin icon near the bottom of the menu stack instead of under the dashboard
Making the icon light-on-dark like the others
Removing the 'Monster' from the plugin name in the menu