Hello, I'm Debbie Campbell.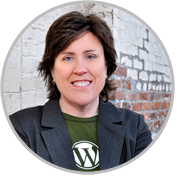 I've been deeply involved with WordPress since 2009; the vast majority of the custom site design and development work my studio Red Kite Creative does is related to WordPress. I'm happy to be part of the amazing WordPress economy!
I like supporting my WordPress clients because they tend to be the ones who are keen on getting the most out of their website investment; using their sites to publish great content, connect with their customers and grow their businesses. But they're often surprised at the endless stream of updates, and wonder why WordPress doesn't come with its own backup system…
Most small business owners I know don't want to be their own tech support and don't have an IT staff to manage it, either. WordPress maintenance is very much a critical issue, and too often it's ignored until something disastrous happens.
Enter WP Minder: Your WordPress Maintenance Service
WP Minder came out of a desire to help WordPress clients in a proactive way – by taking the many technical demands of owning and running a WordPress site off their plate, so they can concentrate on running their businesses and publishing high-quality content. That's enough of a burden as it is!
With WP Minder, all the regular technical things are handled for you. That includes frequent offsite backups so that if your site gets hacked, it can be recovered quickly and easily. It includes keeping WordPress and plugins up to date. It includes security audits to improve site safety and reduce the changes of being hacked in the first place.
Other benefits available with WP Minder:
24/7 security monitoring and malware cleanup;
Access to a library of professional WordPress video tutorials;
Access to SEO tutorials;
VPS managed WordPress hosting;
Database cleanup;
Personal site checks to make sure everything is running smoothly;
Monthly reports;
Plugin and theme installs;
Premium plugin and theme updates;
Site migration;
Included or discounted support hours;
Performance testing and recommendations.
If you own a WordPress site, I encourage you to check out our plans. They're designed specifically for small businesses and provide the most protection and support at an affordable price. It's so much less stressful and usually much less expensive to protect a site proactively than to try to salvage it after a hack or a server failure – and servers do fail. Make no mistake.
If you're looking for exceptional and fast managed WordPress hosting, check out our Maintenance + Hosting Plans.
Thanks for checking out WP Minder! We look forward to working with you.